[size=150]CBC SPRING and BIRTHDAY CHALLENGE
---
Here is mine ....it looks black but is actually a ruby colour as it is for my Sister and BIL
---
very elegant Liz I love red and white
---
classy - I am sure they will love it.
---
.....and personalisation.......
---
Blogged this & thought I'd put it here
I keep getting interrupted!!!!
So here it is - my 'Grandkitty' Elliot's 4th birthday card - it was his birthday yesterday
---
My Dad is 70 next month and all the family are going out for a meal. This is the invitation that I made (so it is personalised inside, honest
). He just wanted something quite simple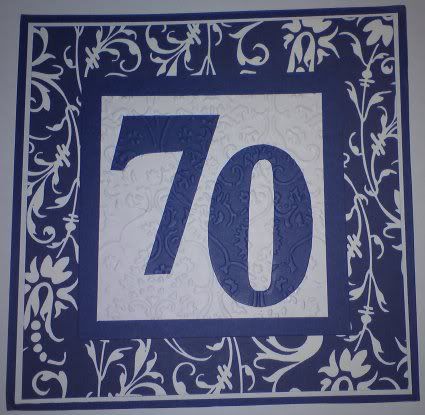 ---
ooo classy Jackie

I am loving the numbers cards ladies - i always think numbers are hard you are doing great
---
lovely cards, the invitation is perfect for a man.
---
Posts: 11311
Joined: Thu Aug 05, 2004 11:45 pm
Location: Bromley, Kent
Contact:
Super cards, everyone.
I've done a LO, complete with number and personalisation.
Thanks, Sue, for these challenge prompts. I was going to make a 'special number' card, but haven't got any of those birthdays or anniversaries coming up soon. I rarely scrap, so this is just the spur I needed. Having looked at mum and dad's diamond wedding pictures yesterday to select one or two to put in the mini-book for mum, I thought I'd do a LO - one of those I've intended to do before and have never got round to.
x
---
here is mine, this is the second attempt - still not sure I like it tbh - it is for my boss. BUt cannot think what to put on the card.
---
Great cards ladies and L/O too Hazel.Here is a card for my Grandson's birthday
---
---
ahhh FAB love the cartoon
Boss so long as your boss is 40 and called JUlian think you will be OK??
---
---
Who is online
Users browsing this forum: No registered users and 1 guest